Inner Circle
members: Share a personalized version of this article from the
members area
.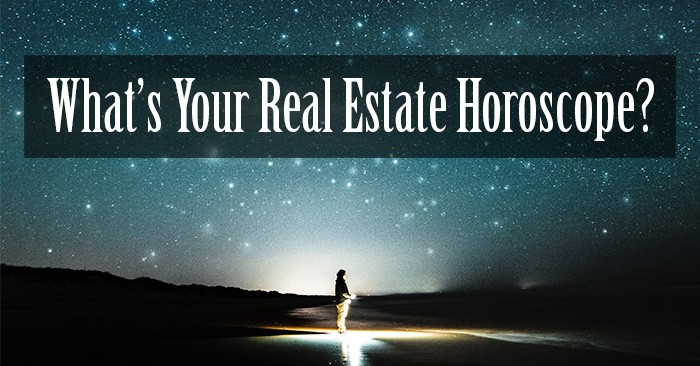 Pin
Hey, real estate agent! Want to know what's in store for you this weekend? Sure you do!
We consulted the stars and gathered these messages for you…
(Disclaimer – we have no training in astrology or astronomy. We do, however, have a wicked sense of humor and a $19.99 telescope, so we did our best.)
ARIES
Aries, you're always 10 steps ahead of the game, and that's going to come in handy this weekend — BIG TIME. While you're tap-dancing your way through showing after showing and putting out fires over the phone, you'll also have to deal with a few unexpected kerfuffles on the home front. It's nothing major… just enough to keep you on your toes.
The good news? There's a giant bottle of vino with your name on it just waiting for you. Hang in there! Relaxation is coming.
TAURUS
You love the finer things in life, Taurus. From delicious meals to comfortable clothing to posh surroundings, you want it ALL. The only problem with that? Your clients do, too.
Instead of Netflixing and nibbling on bonbons while ensconced in a pile of plush blankets, you'll find yourself sitting in front of the computer scouring the MLS for the perfect Craftsman bungalow with an open plan kitchen and all new appliances. Oh, and a pool. AND a three car garage. For under $250K. C'mon, Taurus, if anyone can work this miracle, it's you. You can get comfy as soon as the deal's done.
GEMINI
Of all the signs in the zodiac, you are the BEST at communication, Gemini. This is a good thing because you've got some serious negotiation to do this weekend.
Whether it's sorting out a business deal gone sideways, or smoothing over ruffled feelings with your honeybun because you're working late — AGAIN — you'll know the exact way to say what you want to say and still have everyone wind up happy in the end. Pat yourself on the back, Gemini, because your silver tongue will save you yet again.
CANCER
Buckle up, Cancer, because impressive career progress is comin' your way! The stars have aligned for you this weekend, and things are about to get CRAZY — crazy-good, that is! You'll probably look in the mirror and ask yourself, "How did I get so lucky?", because the deals just keep coming.
Even better? Things will fall into place with very little effort on your part (must have been all that smart social media marketing you've been putting in place). That's right! Your business is really starting to take off AND you didn't even have to put pants on. (Unless you leave the house. In that case, we do recommend pants.)
LEO
Uh oh, Leo… someone's pushing your boundaries, and it looks like you're going to have to show them. NOBODY puts Leo in the corner! Whether it's an appraiser giving you the side-eye over the Miller's sales price, or your kids' babysitter showing up late AGAIN, all you need to do it push back and ROAR one time and all will be well again.
Keep being you, Leo. You're the undisputed queen (or king!) of your area and it's time to remind everybody of it.
VIRGO
Great news, Virgo! It's quiet at work, so you'll feel like you have all the time in the world to yourself this weekend. The only problem with that? You'll spend it going to twelve different liquor stores on the quest for an obscure brand of craft beer that you just KNEW would be the perfect closing gift. Spoiler alert: You'll never find it. Oh well, can't win 'em all, right?
(Don't worry! Next weekend, the stars suggest you'll be so jam-packed with work that your only "free time" will consist of sneak-eating a roast beef sandwich in the middle of a busy open house. Ahhh, #TheRealtorLife can be so rewarding.)
LIBRA
Libra, Libra, Libra. What can I say? You've got a rough weekend ahead of you. Why's that, you ask?
It's because you promised yourself you'd stay in and get your social media planned for the rest of the quarter. Remember? You wanted to get all your Facebookin' out of the way so you could dig into allll the other stuff on your plate without worrying about what you should share.
The only problem? You have no desire to make up posts right now, and you don't even know what to say. Even worse? You want to go out and enjoy some much deserved YOU time this weekend, but now it looks like you're going to be chained to your phone and/or laptop all darn day. If only there was another way… If only there was a resource that could help… Maybe there is. 😉
SCORPIO
Ouch, Scorpio! Why have you been stinging everyone around you lately? From the title company to your favorite handyman, let's face it — you've been more than a bit bossy. Look, you're goal-oriented, we get it, but that doesn't mean you need to shout to get your way.
This weekend is all about learning how to catch more flies with honey, so think of some ways you can be extra nice to the folks around you. Trust us, this method will pay dividends in the long run (AND your acquaintances will stop fantasizing about putting sugar in your gas tank).
SAGITTARIUS
Travel is on your schedule for this weekend, Sagittarius. Whether you're just headed out and about in your neighborhood or flying to a distant destination, remember to check and double check that you've got everything you need.
You see, forgetfulness is ALSO forecasted for this weekend — in a major way. If you've been too busy to think straight lately, your brain might take a little vacay of its own and then you'll be left high and dry without your laptop or possibly even — gasp! — your PHONE. We all know that technology is an agent's best friend, so DON'T let this happen, mmkay?
CAPRICORN
You're eager, goal-oriented, and competitive. Your clients will get that eagerness and plenty will find it endearing, but some might mistake your boldness for bravado. Just like you need to do when staring down a poorly converted "fourth bedroom" that still smells a bit like motor oil, read the room.
This weekend, don't let on that you're just dying to get the listing because you want to beat dorky Bowtie Bob out of the #1 spot. Instead, keep your wits and use your charisma to charm them into working with you — not because you're an eager beaver, but because you're the best darn agent in town!
AQUARIUS
My fishy friend, you're independent and persistent, but sometimes known to be a bit too quick to judge. Don't let that get the better of you! Your clients would hate to watch their dream home slip through their fingers.
Use your persistence to take the deal to its logical conclusion, and if it doesn't pan out the first time keep on it! Offers can fall through, people get cold feet… be there to pick up that rebound and make it happen!
PISCES
Good news! A trio of stars has aligned to bring you only the most beautiful homes this weekend. That's right! You won't have to cover up a major carpet stain, fix a fence, or "get creative" with your photography this weekend. Instead, you'll find a selection of homes any agent would be proud to show.
Even better? It's an ideal time to sign contracts, too. Your clients will jump at the chance to close deals, and you'll be basking in their adoration. Looks like everything's coming up roses for you, Pisces.
OK, so these horoscopes may not be accurate, but they sure are fun. You know what else is fun? Click this way and we'll show you…
Agents: Spruce Up Your Marketing… For FREE!
Want to stay top-of-mind?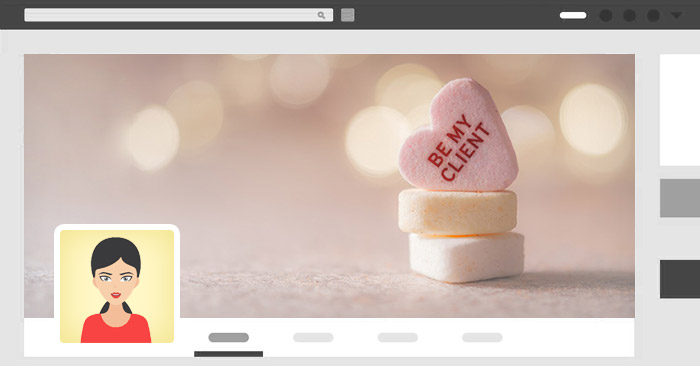 Then snag The Lighter Side's entire collection of witty Facebook covers — 96 in all!
Just tell us where to email 'em!