Inner Circle
members: Share a personalized version of this article from the
members area
.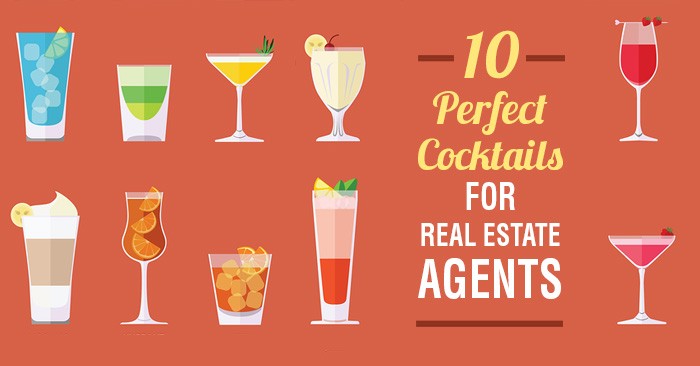 Pin
Real estate pros work very hard and deal with a wide array of emotions on a day to day basis. Sometimes, we need a little something to unwind, or to perk up, or to celebrate, or to drown our sorrows in. Basically, there's always a reason for an agent to need a drink, so here's the top ten list of drinks for hard-working real estate pros. Drink responsibly!
1. The Broker Blues
The time when you don't have any pending deals. You're feeling sorry for yourself and wondering why the hell you work in real estate.
Ingredients:
½ oz. Blue Curaco
½ oz. Vodka
A squeeze of lime juice
Directions: Shake with ice and strain into a shot gloss. Repeat, as necessary.
---
2. The New Listing Lemondrop
When you get a new listing and you're feeling your inner Superhero coming back, baby!
Ingredients:
1 ½ oz. Vodka
½ oz. Triple Sec
1 tsp. sugar
1 tsp. lemon juice
Maraschino cherry
Directions: Mix Vodka,Triple Sec,sugar,and lemon juice in a cocktail shaker half-filled with ice; shake well until sugar is well blended. Pour strained liquor into sugar-rimmed martini glass and don't forget to garnish with a cherry on top! Note: To create a sugar-rimmed glass, take a lemon wedge and rub the rim of the glass. Dip the edge of the glass into superfine sugar.
---
3. The Red Hot Realtor
Directions: You're dominating the market. You have homes flying off the streets and clients lining up wanting your help. You're on fire! This drink is simple, because you don't have time to make anything complicated.
Ingredients:
1 8oz. glass of 7-up
1 shot of Fireball Cinnamon Whisky
Directions: Mix and drink.
---
4. The All-Nighter
You've had a long day. You spent hours on the phone and computer pulling comps, setting up showings and answering emails. You have offers to respond to and draft, and you know you'll be up late tonight. The All-Nighter drink has your back. It's also simple and knows you don't have the time to measure and bust out a ton of ingredients.
Ingredients:
Red Bull Energy Drink
1 shot of Captain Morgan's spiced rum
1 shot of orange juice
Directions: Mix and drink.
---
5. The Home Wrecker
The day the inspection or appraisal kills the deal. You need something STRONG! Also called the Long Island Iced Tea, this is one of the strongest and most alcoholic drinks ever created. It's also delicious.
Ingredients:
1 shot of vodka
1 shot of rum
1 shot of tequila
1 shot of gin
1 shot of triple sec
1 lemon wedge
Coke
Directions: Fill a cocktail shaker with ice and add the spirits and the juice from a squeezed lemon and shake like hell. Pour into a tall glass, add ice and slowly pour the coke on top of the ice. The less coke you add, the better you will feel.
---
6. The Double Agent Dance
This is when you're acting as both the listing agent and buyer's agent. You know you have a lot of work ahead of you, and that it requires a delicate dance. This drink is also known as The Dancing Goldfish.
Ingredients:
1 bottle of white wine (chardonnay or white zinfandel are best)
12 oz. of 7-Up
12 oz. Peach Schnapps
1 can of mandarin oranges
Directions: Over ice and in a large pitcher, pour in wine and peach schnapps. Stir in mandarin oranges and 7-Up. Serve in tall glass with ice and watch the fishes dance! Keep refilling to keep the fishes alive!
---
7. The Big O
When you've worked so long and so hard, and given all you can, and you finally get the satisfaction of a job well done. The build-up has been intense, and then… you get an OFFER! Also known as a Screaming O (if the offer was at or over asking)! There's no better feeling in the world. ;)
Ingredients:
1 oz. Bailey's
1 oz. Kahlua
1 oz. Vodka
1 oz. Amaretto
Directions: Makes one shot. Can be doubled for a Multiple O situation.
---
8. The Hail Mary
When you have a deal hanging by a thread and you need that one last burst of energy or negotiation super power to get the deal done. This is when you need your Hail Mary, also known as a Bloody Mary.
Ingredients:
1 ½ oz. vodka
3 oz. tomato juice
1 tbsp. lemon juice
½ tsp. worcestershire sauce
3 drops of tabasco sauce
½ tbsp. horseradish
salt, pepper
Directions: Mix everything together and pour into a tall glass. Garnish with lemon or lime wedge, celery stalk, green onion, pickled green bean, rotisserie chicken or anything you have laying around the kitchen.
---
9. The Superman
It's closing day, y'all! You did your job, did it very well, and made it look easy. You finally got your hard-earned paycheck and saved the world for your client. Realtors are Superheros, and if this isn't your drink of choice, then a beer will never taste better than after a closing! Cheers!
Ingredients:
1/2 oz Stoli Blueberi vodka
1/2 oz Absolut vanilla vodka
1/2 oz Bacardi white rum
1/2 oz Malibu coconut rum
1/2 oz Blue Curacao liqueur
1 1/2 oz pineapple juice
Cranberry Juice
Sprite
Directions: Fill shaker with ice add all of the alcoholic ingredients and pineapple juice and shake till frothy. Pour mixture into a tall glass, then add a quick pour of Sprite and top with a splash of cranberry juice. This will layer red, white, and blue into the glass and will rejuvenate your super-hero powers!
---
10. Love Potion
When your happy clients refer you to a friend or family member and you get to start all over again, and your love for the wacky world of real estate is renewed.
Ingredients:
1 oz Grey Goose Vodka
1 oz amaretto almond liqueur
1 oz peach schnapps
1 oz orange juice
1 oz cranberry juice
Directions: Pour ingredients into a shaker with ice, shake and serve on the rocks.
BONUS
The transaction you love to hate—the short sale! Sure, they're normally chock-full of delays, frustrations, and headaches, but when you take it to the closing table, there's no better feeling. But for best results, drink a few of these along the way to calm your nerves and stay the course!
I present to you: The Short Sale Cocktail!