Inner Circle
members: Share a personalized version of this article from the
members area
.
Meredith
Location: Pierre, SD
Company: Linn Real Estate
I got a listing a few years ago as a newer agent. I was pretty excited. When I went out to take pictures and do paperwork, the first thing I noticed were dead birds on the counter. Headless dead birds. I live in hunting country, so it isn't all that unusual to see animals in various states of dissection, but this was a little strange. I photographed around them. The garage was full of birds in cages and eggs. There were pigeons and pheasants being raised.
This one was strange, even for the wild west. The master bedroom had been converted to a bird hospital with semi-private rooms. A sheet separating each area. I was then informed to not open the shed in the back. There are falcons in there. Oy.
So, I get a few calls and show it a few times. The same comment always comes in from agents. "Maybe it would show better without birds (dead and living) throughout the home." I insisted many times that the owner spruce it up a bit and maybe not have dead birds on the counter. My requests were always denied. I was about to just get rid of the listing.
I got a call from a young man that wanted to see the house. I met him out there. It was raining hard so the garage was closed up, making the bird smell just horrific. All of a sudden, I had to throw up. I ran to the back yard and got sick. Over my shoulder, the new client said "I'll take it". My only reply was, "Are you serious?!" to which he replied "yep".
At closing, the seller shows up and tells me that he needs me to find someone to watch his truck for him. I assured him that my office is in a safe place and that it will be fine. He insisted that I find a body guard. I grabbed the office assistant who was a 6'3" burly man and had him watch the truck. The gentleman had removed the back seat of the truck and had his falcons on a perch there. In the cab of the truck. Closing went well and my falconer was on his way to greener pastures. And that is where the story should end.
However…
A few years later, I ran into the guy that had purchased the house. We started hanging out in the same group of friends and saw each other regularly. One thing led to another and we started dating. Then we had a baby. And now I live in the falcon house.
We converted the bird hospital back to a master bedroom and there hasn't been a dead, headless bird on the counter since this vegetarian moved in.
Editor's note: After reading this, I was like…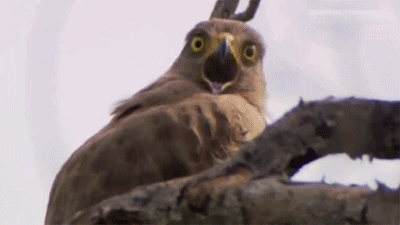 Pin