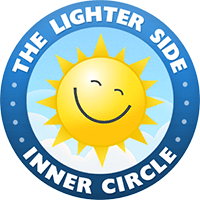 Inner Circle
members: Share a personalized version of this article from the
members area
.
Not everybody who posts to Craigslist is selling or seeking something; some use the platform to make a point. Such is the case with the anonymous Realtor who posted this "wanted" ad.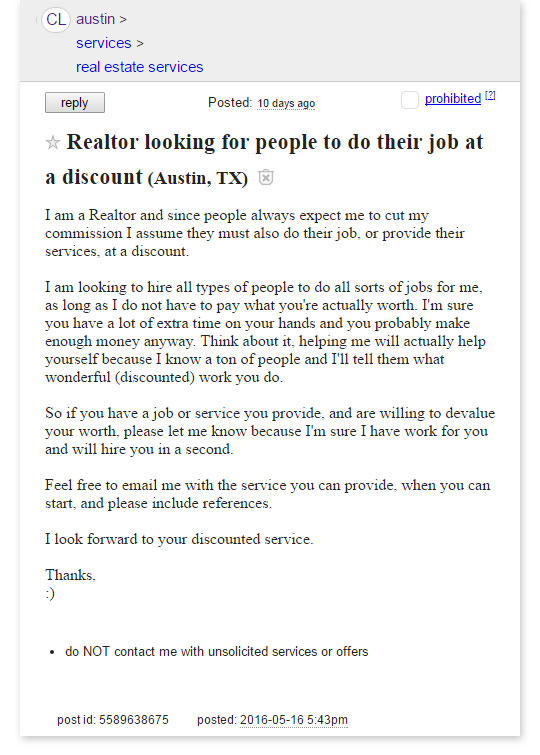 Realtor looking for people to do their job at a discount.

I am a Realtor and since people always expect me to cut my commission I assume they must also do their job, or provide their services, at a discount.

I am looking to hire all types of people to do all sorts of jobs for me, as long as I do not have to pay what you're actually worth. I'm sure you have a lot of extra time on your hands and you probably make enough money anyway. Think about it, helping me will actually help yourself because I know a ton of people and I'll tell them what wonderful (discounted) work you do.

So if you have a job or service you provide, and are willing to devalue your worth, please let me know because I'm sure I have work for you and will hire you in a second.

Feel free to email me with the service you can provide, when you can start, and please include references.

I look forward to your discounted service.

Thanks,

:)
Is it snarky? Absolutely.
Funny? You decide.
But one thing's for certain: it's rooted in the truth of what most real estate agents face on a regular basis.
Fact is, most people don't really understand what they do to earn their commission and how they get paid. This causes the misconception that agents aren't worth what they're paid. Or that they live "high on the hog".
Not hardly. After marketing fees and dues, agents earn about 1.5% per transaction on average. It's expensive to be a real estate agent. Just have a look:
Some Common REALTOR® Expenses:

Broker Fees
MLS Fees
NAR Fees
E&O Business Insurance
Extended Auto Insurance
Self-Empoyment Tax
State Licensing Fees
Advertising Fees
Showing Service Fees
Website Fees

Assistants salaries
Yard Signs
Photographers
Videographers
Office Supplies
Business Cards
Property Flyers
Electronic Lockboxes
Continued RE Education
You can view the original ad here.