Inner Circle
members: Share a personalized version of this article from the
members area
.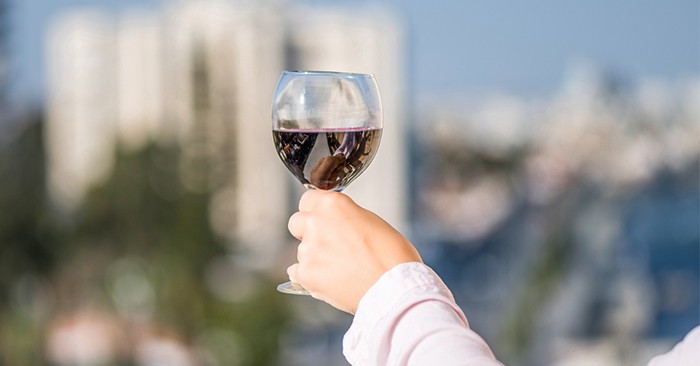 As the famous Greek playwright Euripides once said…
Where there is no wine, there is no love.
Wine is such an enjoyable substance, and while opening a bottle at home is fun… touring vineyards and whiling away the hours in tasting rooms is much more fun!
If you love wine and you're in the market for a new place to live, you might instantly think of Northern California. Its famed wine region is world-renowned, after all.
But let's face it. Napa can be quite expensive, and Sonoma's not much better.
I mean, if you're an oenophile and you've got 800 grand or more, then, sure, Northern California's the way to go.
If you want something with just as much charm and a more reasonable price point, though, look no further – here are some ideal cities where you can explore your love of the world's most delicious grape juice without the painful mortgage payment.
1- Boerne, TX
Boerne is home to just over 16,000 people. This attractive suburb is located right at the entrance to Texas's Hill Country. If you move to Boerne, you'll be a hop, skip, and a jump away from the vineyards of Fredericksburg, but still close enough to commute to the thriving city of San Antonio for work.
If you're a retiree or someone who works from home, check out Fredericksburg itself. This tiny German-influenced town is charming, affordable, and home to lots of scrumptious vino.
Believe it or not, it's true – there's great wine in Texas. In the 1970s, Texas wine started to gain attention on a national scale and nowadays, you can get everything from a full-bodied Viognier to a rich, woodsy Tempranillo.
With 53 vineyards in the Hill Country area, you'll have plenty of new places to visit – and they're all right in your own backyard.

Boerne, TX
2 – Montpelier, VT
When you think of Vermont, you might think of cheese, and you're not wrong about that. With a strong agricultural tradition, Central Vermont has dairies and farms as well as impressive vineyards and wineries all around.
If you're looking for a great place to live that's in striking distance of all this bounty, check out Montpelier. This likable hamlet is both cute and accessible.
One thing to note – when you head out to go tasting around your new Vermont home, don't be surprised if you find a bunch of wines you've never heard of before. Because the climate is so cold in the winter, only specially developed vines can grow here.
So forget the Chardonnay and learn to embrace Frontenac blanc instead. While you're out sipping, also give some of the more unique local blends a try – ice wine, honey wine, and even maple wine are all available here.

Montpelier, VT
3 – Prescott, AZ
Between the great economy, thriving real estate market, and grape-friendly climate, it's a wonder why anyone would want to live somewhere other than Prescott!
Sure, you get the heat in the summer and cool in the winter, but you'll also get just enough rain to make this area a secret hotspot for vineyards.
If you like full-bodied reds, this is a great location for you. When you're not sipping the good stuff, you can head up the road and visit the spas in Sedona, or drive just a bit further and see one of the natural wonders of the world – the Grand Canyon.
(Let's be honest, though – you might spend so much time enjoying Cab Franc you won't even want to go anywhere else.)

Prescott, AZ
4 – Finger Lakes, NY
People who think that California is still the king of wine in the US may be shocked to hear this, but wines from the Finger Lakes area of NY has recently scooped up the awards on the wine scene! If you're into this area, move fast – USAToday named it a top wine region, so the word will spread quickly.
Also, the outdoor lifestyle is big here – residents love hiking, biking, and boating, so if you're an outdoorsy type, you and your new neighbors will hit it off big time.
With many beautiful lakes, maybe you can even find yourself a lakefront property and spend the day kayaking, then sipping a nutty Gewurztraminer on your own deck watching the sunset!

Finger Lakes, NY
5 – Albuquerque, NM
Instead of thinking, "What's good about Albuquerque?", you might find yourself wondering, "What's NOT good about Albuquerque?"
Between the skiing, the hiking, the gorgeous sunsets, (and oh, yeah, the great wine!) there's never a dull moment in this city of just over a half-million people.
Albuquerque is home to unique Southwest style architecture, and with a median home price of $202,000, you're sure to find a house that's perfect at a perfect price for you.
When you've found your perfect Albuquerque digs, you can spend weekends tasting sparkling wines – the region is one of the USA's best spots for these bubbly classics – or quaffing deep reds. Open up and say Aaaaaahhhlbuquerque!

Albuquerque, NM
6 – Idaho Falls, ID
Boise, ID has been a burgeoning real estate hotspot for awhile now, but did you know that only 30 minutes away, there's a wine region?
Idaho Falls has it all – the perfect blend of jaw-droppingly beautiful nature, bustling commerce, a great cost of living, and, of course, wine.
If you can withstand the frigid winters, you'll be rewarded with some of the most gorgeous land in the country and everything from bright Rieslings to fragrant Malbecs. When you dig in and start going tasting, you'll find over 30 wineries – each one with more interesting offerings than the last.
Whether you're raising a family or looking for the perfect spot for your newly-empty nest, this city might just be the perfect one for you!

Idaho Falls, ID
7 – Grand Junction, CO
If you love wine AND outdoor adventures, Grand Junction, CO might wind up as number 1 on your wishlist. With 300 plus days of sunshine every year, there's a lot to like about this gorgeous mountain town.
You can visit the Colorado National Monument or head to one of the area's many beautiful nature spots. After a day of mountain biking or skiing, you can hit up one of the area's respected wineries and enjoy a bottle of Syrah or Bordeaux.
With everything from sprawling ranch style homes to more traditional 2-story family digs and a median home price under $250k, Grand Junction's got a property – and delicious beverages! – for just about any taste.

Grand Junction, CO
There you have it – seven cities you can move to if you want to live the wine life. Which one is your favorite?
Crack open a bottle of your favorite vintage, and share this article with the wine fanatic in your life. You never know – you could wind up in one of these spectacular cities next!