Inner Circle
members: Share a personalized version of this article from the
members area
.
Oh, Cheryl! Our collective hearts melted for you, right along with your she shed. Good thing Zachary from State Farm has your back, though. Thanks to him, you're getting another one!
(For those of you living under a rock, this all went down in a commercial — one that's gone quite viral, mind you. Check it out below.)
To ease the burden of finding a replacement, Cheryl, here's a list of potential she sheds for you to choose from.
#1 Ahh, serenity. You can almost hear the birds chirping next to this one can't you, Cheryl?
#2 Your shed. Your rules. Suggested Rule #1 of your shed: No men allowed.
#3 OMG. This can be your yoga studio, Cheryl! And by "yoga studio" – this is where you can drink wine in your yoga pants!
#4 This one has plenty of room for you and ALL your girlfriends!
#5 "She Shed is where the heart is." 'Nuff said.
#6 Note to Cheryl: When Victor's in front of the TV watching the game, it's time to escape to your she shed. This one's not a bad choice!
#7 This beachy one looks right up your alley, Cheryl!
#8 Don't let your husband, Victor, turn this into a tool shed?! Really… TOOLS? What a waste!
#9 Thumbs don't become green by themselves, Cheryl! They need the right environment!
#10 This one's perfect for Victor to cook (and serve you) your favorite meals! :)
#11 Ohhh Cheryl. You'd look so beautiful and peaceful in this one!
#12 Hmmm… if only I could fit you a hot tub in here…
Alright Cheryl, good luck in finding the perfect replacement!
Agents: Spruce Up Your Social Marketing… For FREE!
Want to stay top-of-mind?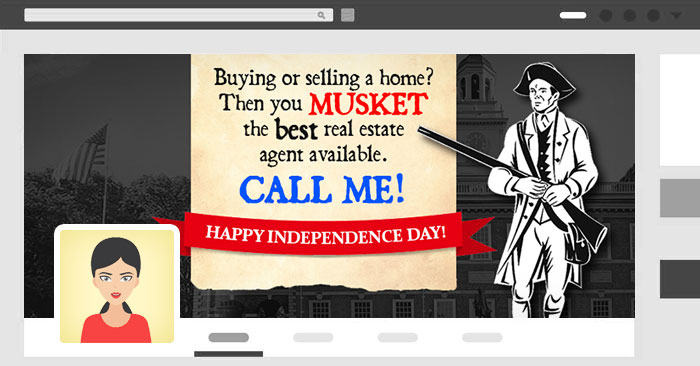 Then snag The Lighter Side's entire collection of witty Facebook covers — 72 in all!
Just tell us where to email 'em!