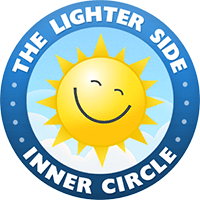 Inner Circle
members: Share a personalized version of this article from the
members area
.
Ah, the holidays. It's a time when we gather our families together and rejoice in loving celebration with those we hold in the highest esteem. We celebrate these special times with gifts, food and strapping hundreds (if not thousands) of dollars' worth of electricity-bill-engorging lights to our homes. Some do it with a creative flair, others with
a whole lot of fail.
---
1. Hey, you forgot to run spellcheck…
2. "It's a Merry Redneck Christmas!"
3. "For $500… What this homeowner is getting for Christmas." "What is 'not laid', Alex?"
4. Can't say for sure, but Santa may be skipping over someone's home this year…
5. Uhh, you missed a spot…
6. Merry Christmas from the real-world Griswalds. (I'm sure their electric company will have a happy new year.)
7. That's one way to keep up with the Jonses'.
8. This is why you drink eggnog AFTER decorating.
9. Gee, Santa… how charming.
10. You can almost hear them caroling, "Oh keg tree, oh keg tree…"
---
RELATED: An Entire Neighborhood Teamed Up to Create the Most Insane Christmas Light Show Ever
---
11. When christmas lights meet silly string.
12. Holiday cheer level: -1