Inner Circle
members: Share a personalized version of this article from the
members area
.
I was inspired to write this after seeing a post on The Lighter Side of Real Estate, which asked the question:
If you could change one thing about the real estate industry, what would it be?
I was particularly fond of Sophia Sboukis' response, which you can read below.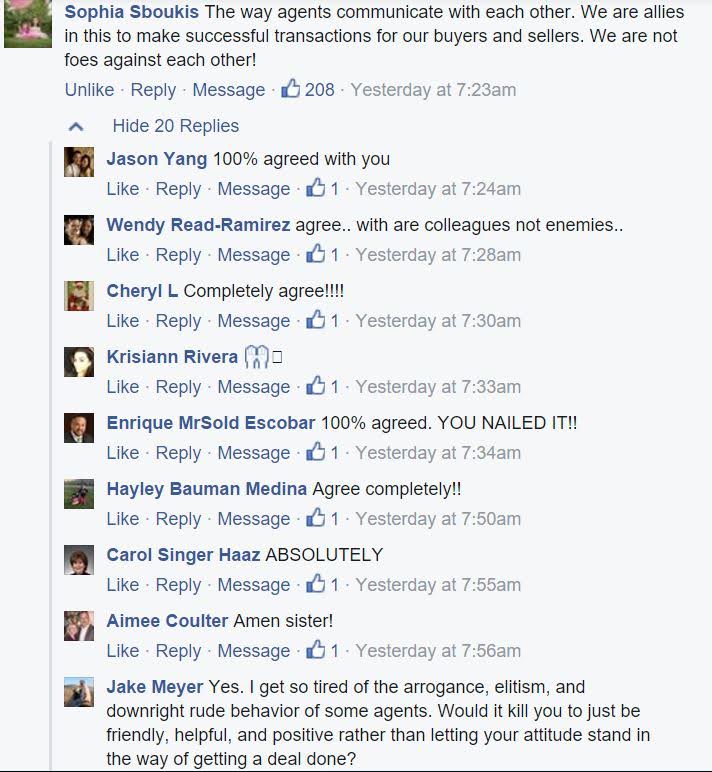 Pin
I wanted to expound, and below you'll see I've done just that.
The Problem
As agents and Realtors, we have a long list of responsibilities. Some can be very frustrating and downright stressful. At any given time we have to deal with picky buyers, stubborn sellers, or a dry market (sometimes all 3, and more)—but that's just part of the job description, and the good ones handle it with grace.
The sad reality is that most stress for a Realtor usually comes from the co/op Realtor who is supposed to be working WITH us. See, I've talked to (and worked with) many Realtors, and I've observed an imbalance within the industry. And it's quite a nagging problem…
Two Camps of Realtors
On one hand, some Realtors are like extended family: they're the first to join forces with other Realtors and join associations with them, support them, congratulate them on a sale, and even go to Happy Hour together. There is great camaraderie amongst these Realtors, and we feel like a part of a club where we can vent about our woes and it's understood.
On the other hand, some Realtors will sometimes turn bi-polar when working with other agents and it's like working with Dr. Jekyll and Mr. Hyde. I've had many transactions with seemingly successful Realtors who were friendly and nice to me in the beginning when the offer was accepted, and then turned into a raving lunatic who bullishly tried to divert blame at every opportunity.
These Realtors don't typically get along too well with others in the industry, and they don't realize that their reputation is in jeopardy.
Too many Realtors brag about how many homes they've sold, or how much money they've made or let their success get to their head. I wish that some of that money could buy common sense though, because I find that some of the most "top-producing agents" are the busiest, and therefore are the ones that fall way behind on simple tasks like returning my phone call or a quick email.
After I call or email again and days go by and I have to reach out yet another time, they tend to get very snippy and use their "I'm super busy because I'm the most successful rock-star agent on the planet" excuse.
I don't care about any of that. I care about OUR transaction, and if I am waiting on a document or answer to a question, it should be a priority to you as well because you have a client in this too, Mr. Rockstar.
This article isn't entirely a rant, though, because I've had wonderful transactions with other Realtors who were communicative and handled themselves professionally. When an issue arose, we were able to work it out and leave personal feelings aside and focus on the ONLY important task: Getting the home sold.
Those are Realtors that I would LOVE to work with again, so you bet I will bend over backwards to show their homes to my prospective buyers.
I Get It, Though
I understand the disparity of personality types in this business. Not only are we humans inherently unique (obviously), but Realtors are particularly territorial creatures. We're very protective of our clients, as well as our own credentials (as we should be). We know our own work ethic and amount of time and dedication we put forth, and we expect the same from our co/op agent.
Because we're self-employed, we're not bound by traditional office rules or hours. Every Realtor operates his/her business differently, so rarely do our expectations get met.
Sure, it's easy to judge and complain about them, but we need to treat others the way we want to be treated, bite our tongues, respect one another and work together until the deal gets done.
Which brings me to this…
The Bottom Line (And A Call To Action)
To all the rude, condescending, and elitist real estate agents out there:
Look, we're meant to work together. There is a Listing Agent and a Buyer's Agent role for a reason. One represents the seller and one represents the buyer, but they need to work together to make sure the home sells and both parties are represented equally. Too often, Realtors take on a Defense Attorney and Prosecutor role and lose sight of the big picture.
We are allies and not enemies. I hope that more Realtors learn to play nice with one another because this industry is stressful enough as it is without the schoolyard drama and immaturity. We get that from our clients or Zillow reps hunting us down…
…so can't we all just get along?