Inner Circle
members: Share a personalized version of this article from the
members area
.
1. My reaction when someone starts telling me about their favorite real estate book:
2. My reaction when someone asks me if I make a lot of money from real estate:
3. When I run into another agent and their buyer during a site visit:
4. When I step into a foreclosed property that my buyer wants to walk through:
5. My reaction when helping a new agent do their first search on the MLS system.
6. When I'm sitting at the closing table, watching my client sign closing documents: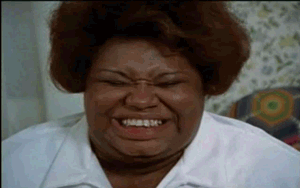 Pin
7. When I enter a house I'm showing (that I thought was vacant… but was not).
8. When my buyer tells me they want to submit an offer for $100,000 on a property that's listed for $225,000:
9. My reaction when I think I might have just locked my keypad in the house I just showed.
10. My reaction when another agent tells me their buyer is backing out of buying my client's house for no good reason.
11. Me when I hear a FSBO talking about how easy it is to sell real estate.
12. How it feels to work with a cash buyer:
13. My reaction each year when my accountant tells me how much I owe the IRS:
Do YOU want to contribute to the Lighter Side of Real Estate? Feel free to let us know here.